A theme based on bootstrap. Designed and developed by Datasouth.
We created Bethel Theme specifically for nonprofit organisations, churches and businesses that heavily use content on their website. It provides flexibility as it has numerous pagetypes, fonts and elements to choose from. You can easily build your site according your taste and liking. Because it uses bootstrap framework, it is consistently mobile responsive. Users can easily access your website from any device anytime, anywhere generating more traffic and conversion.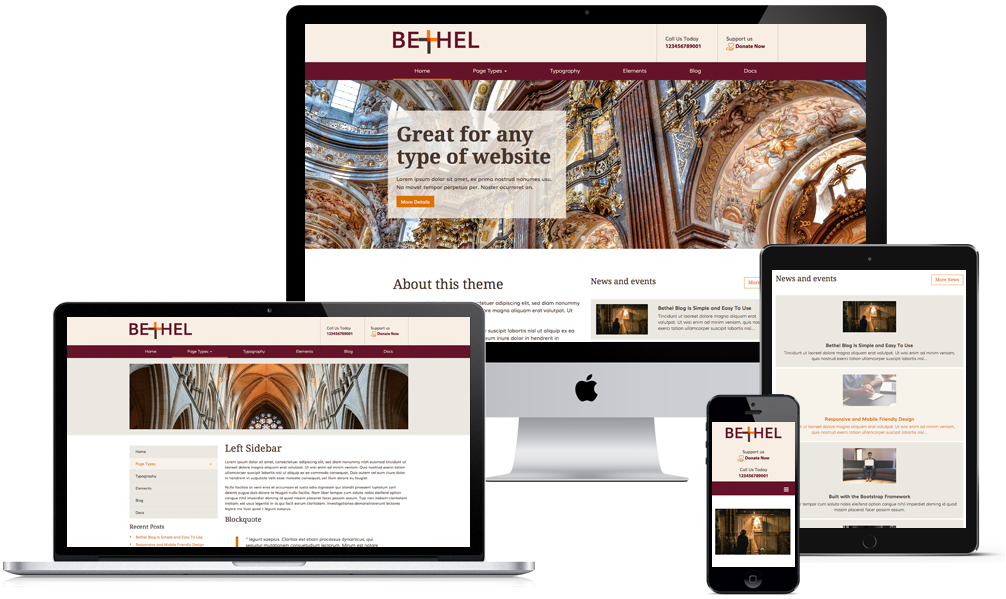 Theme Features:
5 different pagetypes
9 custom pagelist templates
7 custom autonav templates
6 custom feature tempaltes
1 custom conversation template
3 custom image slider templates
2 custom faq templates
2 custom search templates
2 custom form templates
4 custom image templates
1 custom share this page template
4 custom social links templates
1 custom tags template
4 call to action buttons
Uses google fonts
Mobile/Responsive ready
Datasouth Custom Blocks & Templates
ds_schedinfo
schedinfo_card (ds_schedinfo template)
schedinfo_justified (ds_schedinfo template)
ds_multiple_testimonial
fourcolumn_about (ds_multiple_testimonial template)
testimonial_slider (ds_multiple_testimonial template)
For more information visit the documentation page.