Cosmos theme is designed for any type of business that requires a sleek, clean and easy to build site. It is made with bootstrap framework which uses a mobile-first approach. It is especially created to be mobile responsive so it renders beautifully in different platforms.
We made this as flexible as it should be. It is capable of multiple layouts, has various pagetypes, elements and typography to choose from. With these features, you have wider scope on how your website looks depending on your business' branding and image.
This theme is designed and developed by Datasouth. With us, you are guaranteed with a very responsive and dynamic support team who can answer all your queries immediately.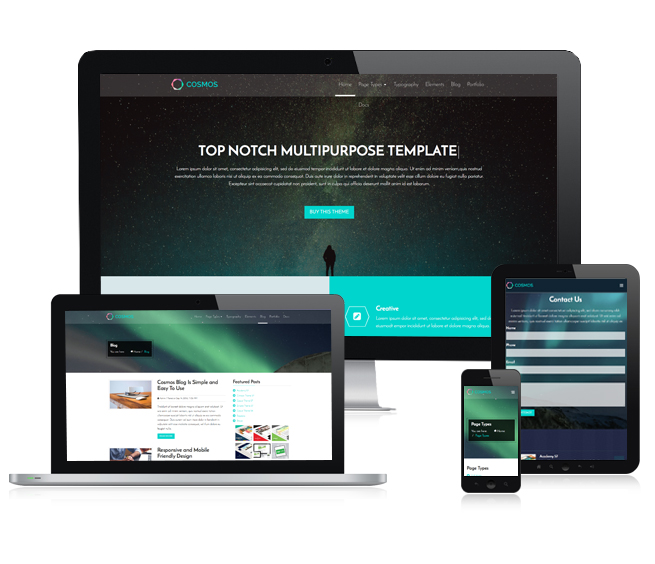 Theme Features:
6 different pagetypes
14 custom pagelist templates
6 custom autonav templates
7 custom feature tempaltes
1 custom conversation template
2 custom image slider templates
2 custom faq templates
2 custom search templates
2 custom form templates
4 custom image templates
1 custom share this page template
4 custom social links templates
1 custom tags template
4 call to action buttons
Uses google fonts
Mobile/Responsive ready
Datasouth Custom Blocks & Its Templates
ds_faq_alternate
alternate_collapsible (ds_faq_alternate template)
alternate_expand (ds_faq_alternate template)
tab_content (ds_faq_alternate template)
ds_multiple_testimonial
fourcolumn_about (ds_multiple_testimonial template)
testimonial_slider (ds_multiple_testimonial template)
For more information visit the documentation page.
The following themes are also developed by Datasouth and offer the same first class support:
For SEO, we highly recommend our Page Attribute Import and Export Tool which allows you to download and update your meta-tags with a CSV file