Please NOTE that Journey v2.0+ requires PHP 7.4+
Journey is a responsive, clean and easy-to-use ConcreteCMS theme for Porfolio, blogging and photography websites. Built with Bootstrap 4 framework. Journey supports responsive layout so it looks great on all devices.
This theme comes with variety of block templates that will fit your needs, it also includes great customization features such as header/footer style customization.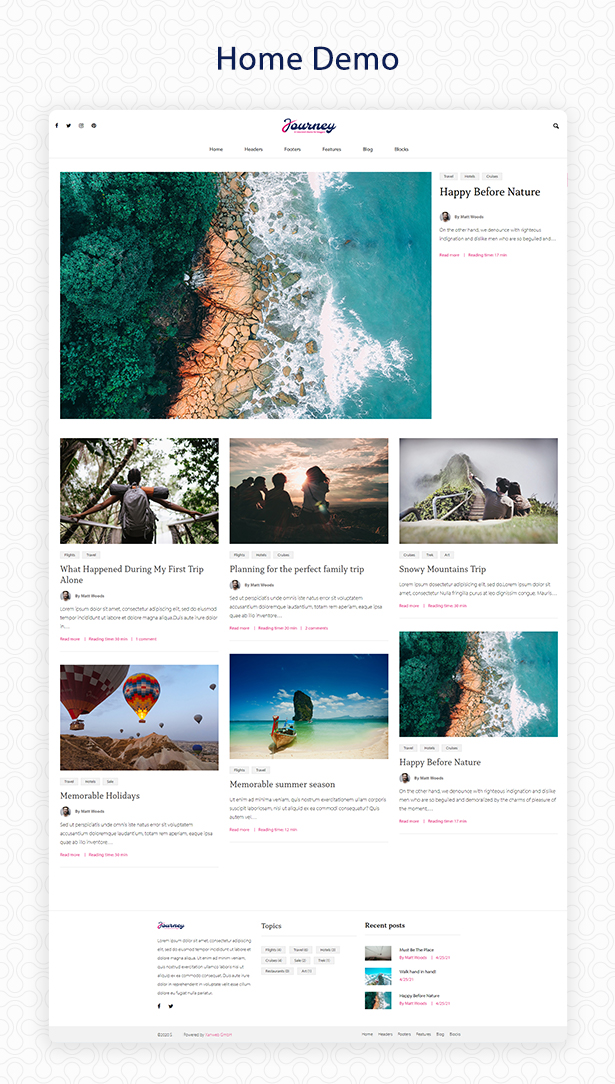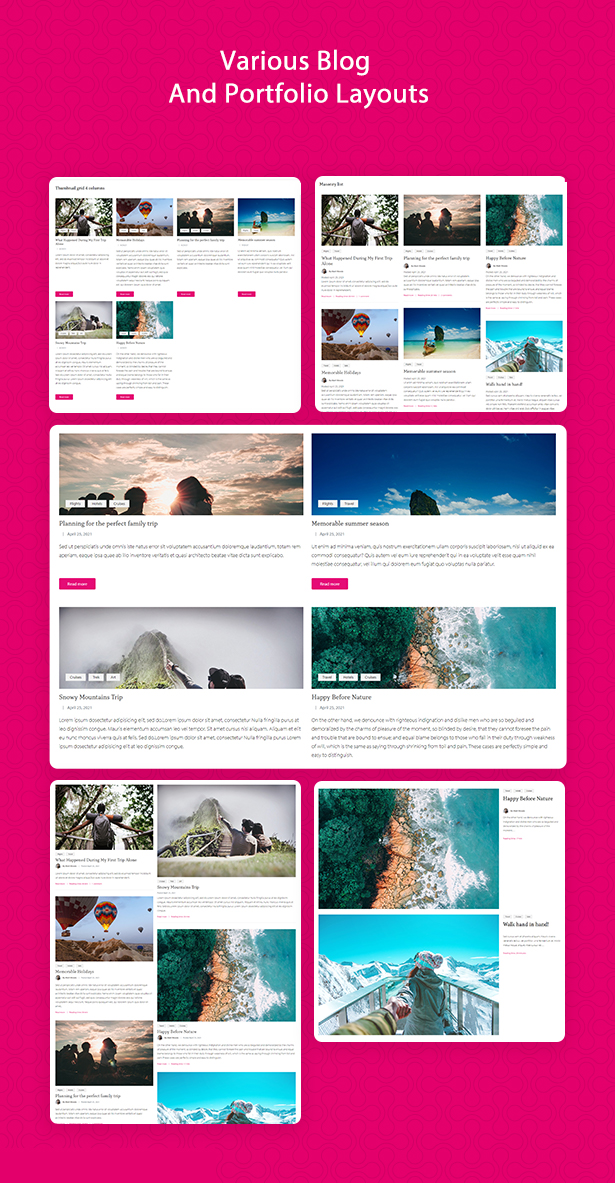 Features
Three presets:

Orange Dark-Gray

,

Purple Black

,

Magenta Black


Preconfigured for bloggers: install and enjoy

Built with Bootsrap 4 framework
3 possible styles for the header
2 possible styles for the footer
9 Page List templates
Design suitable for extra packages
Clean HTML5/CSS3 code
Responsive in any device
Creative layouts
Fast, lightweight & powerful
Easily customizable
Ideal for any sort of blogging website
Works out of the box with extra addons
Supported Add-ons
Page types
Custom Block Templates
Autonav:
Bootstrap Mega Navbar
Bootstrap Navbar
Breadcrumb
Content:
Block container
Content In Box
Image Slider
Next Previous:
Page Attribute Display:
Comments
Inline Attribute
Topic
Page List:
Blog List
Featured List
Footer
Inverse Blog List
Masonry List
Related Articles
Thumbnail Grid 2 Columns
Thumbnail Grid 3 Columns
Thumbnail Grid 4 Columns
Page Title:
Centered Title
Left Title
Overlayed Title
Right Title
Search
Share This Page
Switch Languages
Tags
Testimonial
Topic List
Sidebar Topic List
Topic List In Box
Topics In Badges
Additional Blocks
Author Posts List
Author Profile
Background Video
Link List
Login Popup
Quick Tabs
Simple Accordion
Text Slider
Timeline CV
Fonts Used
Myriad Pro Adobe Fonts
Capitolina Adobe Fonts
Our Themes