Last update: August 24, 2022


Please NOTE that Crista v2.0+ requires PHP 7.4+
If you need an immediate support please buy a support ticket otherwise we will resolve the issues reported once a while.
Crista a resposnive multipropose theme that is meant for wellness spa centers,health, buisness websites.
With Crista you will be able to showcase your spa services . The theme comes with an exciting design and rich templates. It allows also to get a full demo on installation.
Get the Full PACK including our supported PRO addons with Crista Theme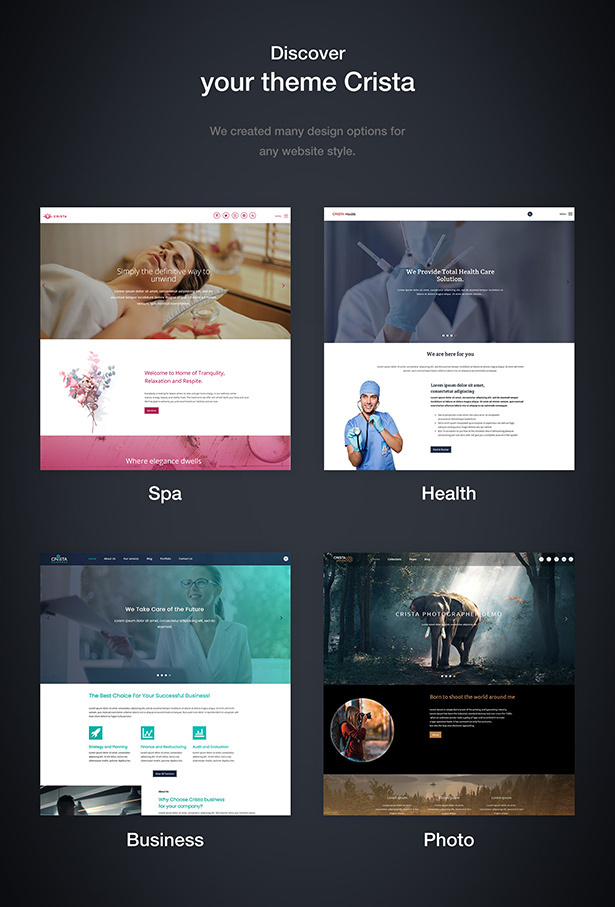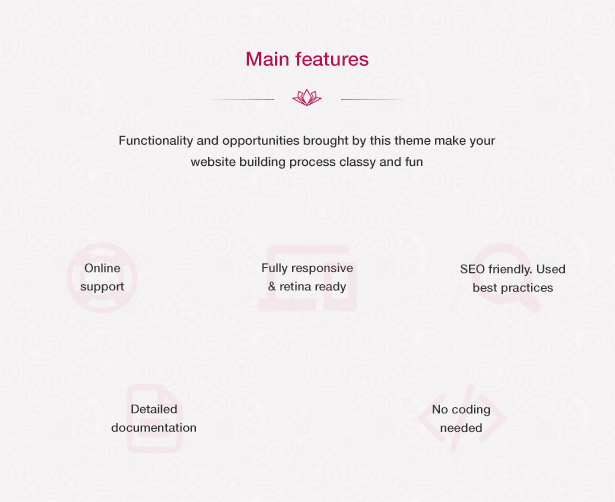 Features
Five presets: Golden Crown, Pink Flower, Health, Business, Photo
Fully Responsive design
5 new blocks
Supported Addons
Page templates
Default
Home
Blank
Full
Left Sidebar
Right Sidebar
Blog
Portfolio
Uber
Both sidebar
Page Not Found
Page forbidden
Page types
Custom Block Templates
Autonav:
Megamenu header navigation
Side menu navigation
Breadcrumb
Footer navigation
Sidebar navigation
Content:
Block container
Block sidebar padded
Block sidebar wrapped
Date navigation:
FAQ:
Concrete tabs
Bootstrap accordion
Light links
Feature:
Feature bordered no icon
Feature box left icon
Feature box right icon
Feature home page
Feature icon on top
Feature rounded icon
Feature square icon
Feature stats
File:
Detailed file
Inline file icon
Vertical file icon
Image:
Image circle
Image right tilt
Image slider
classy slider
Image right tilt
Next previous
block sidebar wrapped
iconed block
Page list
Thumbnail grid
Full container thumbnails
Full side by side thumbnails
Left side thumbnails
Overlayed content
Thumbnail grid one column
Thumbnail grid three columns
Thumbnail grid two columns
Page title
Center title
Left title
Right title
Search
Placeholder search
Search popup
Share this page
Block sidebar wrapped
Icon circle
Social links
Dark footer social links
Icon circle
Rounded corner social links
Rounded social links
Square social links
Survey
Tags
Colorfull tags
Colorfull tags with icon
Testimonial
Topic list
Hero Image
Additional Blocks
Text Slider
Timeline cv
Simple Accordion
Quick Tabs
Background video
Fonts Used
Our Themes